Thursday, October 27, 2022
CONTACT: DPR Customer Care: (202) 673-7647
Bowser Administration Opens DPR Winter Program Offerings with Aquatics-Only Registration on Nov. 1
All other 2022 winter programs will be available Nov. 2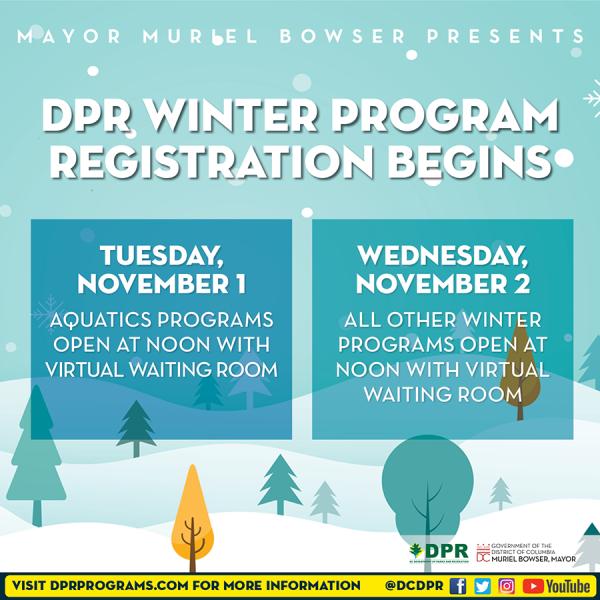 (WASHINGTON, DC) – Today, the Bowser Administration and DC Department of Parks and Recreation (DPR) announced the registration for its 2022 Winter Programs will begin on Tuesday, November 1 for aquatics programs and Wednesday, November 2 for all other programs. Registration opens on each day at 12 Noon.
Winter programs offered by DPR this year include:
Youth basketball, youth and adult tennis, combat sports fitness, ballet dance, and candle-making.
Aquatics programs including Learn to Swim, Aquatic Fitness, Senior Aquatics, and Lifeguard Training.
Programs that accommodate kids out-of-school from DC Public Schools such as Winter Break Camp (December 27-30, 2022), DCPS Fun Day (January 25, 2023), and Mid-Winter Break Camp (February 21-24, 2023).
Additional programs for seniors, as well as fitness classes like bootcamp, cardio, and yoga.
DPR will again utilize a virtual "waiting room" on both program registration days in order to manage the high demand for programs and keep our online system functioning smoothly.
DPR Winter Program registration opens:
Noon on Tuesday, November 1 for aquatics programs ONLY.
Noon on Wednesday, November 2 for all other winter programs.
For more information and to view the full catalog of DPR programs, visit DPRPrograms.com.
###