DPR encourages District residents to join this healthy initiative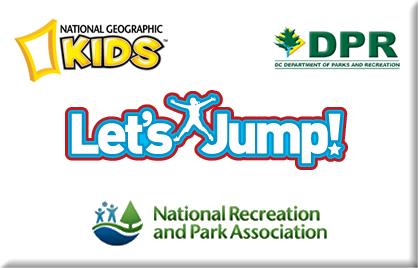 DPR joins National Parks & Recreation in an attempt to break a Guinness World Record for the most people doing jumping jacks in a minute.
Let's Jump Coordinator: Gayle Ward, (202) 316-4210
DPR Media Contact: John Stokes, (202) 288-7275
Washington, DC – On Tuesday, October 11, 2011, the DC Department of Parks and Recreation (DPR) will join the National Parks & Recreation Association (NPRA) and National Geographic Kids in an attempt to break the Guinness World Record for the most people doing jumping jacks for 1 minute. Let's Jump! supports First Lady Michelle Obama's Lets Move Initiative, which encourages families and youth to stay healthy and active. Thousands of children, youth and adults at locations around the country will unite to set this new global record. DPR will host fourteen official locations across the District and may add additional locations the day of the event. The event will begin at 5:30pm, so arrive early to ensure you are there for the countdown.
LOCATIONS:
Ward 1
Banneker Recreation Center
2500 Georgia Ave, NW
Ward 2
King Greenleaf Recreation Center
201 N Street, SW
Ward 3
Palisades Recreation Center
5200 Sherrier Pl, NW
Stoddert Recreation Center
4001 Calvert St, NW
Ward 4
Emery Recreation Center
5801 Georgia Ave, NW
Ward 5
Trinidad Recreation Center
1310 Childress St, NW
Ward 6
Rosedale Recreation Center (at Gibbs Elementary School)
500 19th St, NE
Watkins Recreation Center
420 12th St, SE
Ward 7
Deanwood Recreation Center
1350 49th St, NE
Ridge Road Recreation Center
800 Ridge Road, SE
Ward 8
Ferebee-Hope Recreation Center
3999 8th St, SE
Douglass Community Center
2100 Stanton Terr, SE
Southeast Tennis and Learning Center
701 Mississippi Ave, SE
Barry Farms Recreation Center
1230 Sumner Rd, SE
Location updates and information on DPR's programs and services is available on our website, DPR.DC.GOV, Twitter feed, @DCDPR, or customer service hotline, (202) 673-7647.