Tuesday, October 31, 2023
DPR Winter Programming Registration Opens on Wednesday, November 1 and Thursday, November 2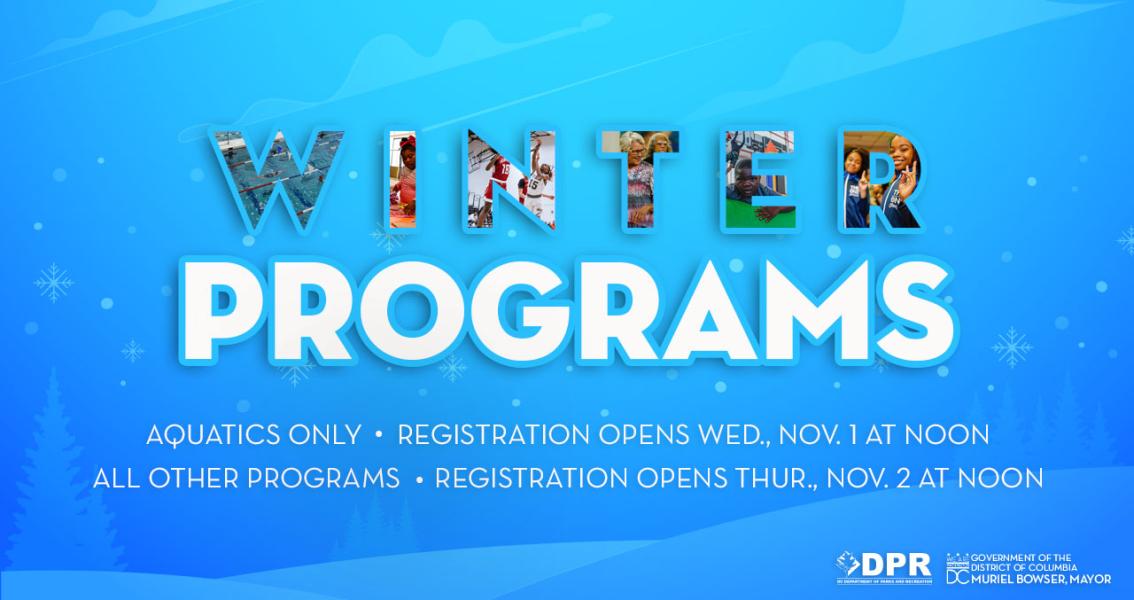 (WASHINGTON, DC) – Today, Mayor Muriel Bowser and the Department of Parks and Recreation (DPR) are reminding residents that registration for DPR's 2023 winter programming will begin on Wednesday, November 1 for aquatics programs and Thursday, November 2 for all other programs. Registration opens at noon on both days.

DPR programs offered this winter include:
Aquatics programs including learn-to-swim, aquatic fitness, water polo, and lifeguard training.
Team and individual sports: basketball, soccer, cheer, gymnastics, tennis, pickleball, and more.
Out-of-school time programs for young people like Fun Day, Winter Wondercamp, Young Ladies on the Rise, and Supreme Teens.
DPR Roving Leaders programs including Girls Who Code!, Little Chefs University, and Art Escape.
Arts programs including ballet, piano, drawing & painting, and sewing.
Senior-centered programs including cardio, aquatics, and overall fitness.
Families can sign their children up for Wee Winter Wondercamp, available for ages 3-5, and Winter Wondercamp, available for ages 6-13, during the upcoming winter break. And registration for additional DPR winter break programs will be announced in November.

Registration for winter programming is available on a first-come, first-served basis, and DPR will utilize a virtual "waiting room" on both program registration days in order to manage the high demand for programs. 

DPR Winter Program registration opens:
Noon on Wednesday, November 1, for aquatics programs ONLY.
Noon on Tuesday, November 2, for all other winter programs.
Residents are encouraged to create an account online with DPR's registration system in advance to save time once program registration opens. To create an account, visit dpr.dc.gov/DPRaccount.

DPR offers programming at reduced rates to qualifying DC residents. Complete the online reduced rates application here. Residents must be approved for reduced rates by DPR before registering for programs. 

For more information and to view a complete list of DPR programs, visit DPRprograms.com. 
###