Wednesday, December 2, 2020
The Bowser Administration and DC Department of Park and Recreation (DPR) has partnered with Medium Rare restaurant owner Mark Bucher to launch the Feed the Fridge program at select DPR facilities across the District. Feed the Fridge places refrigerators stocked with free and fresh restaurant provided meals across the city to help residents in need.
"We are excited about this partnership and to make more free food resources available to the community," said DPR Director Delano Hunter. "Feed the Fridge compliments our DC Youth Meals Program which already provides free meals for youth 18 and under."
Feed the Fridge meals are "grab-n-go" and no registration or ID is required. Feed the Fridge has installed an initial eight of a planned 20 refrigerators inside of DPR locations. Refrigerators are cleaned, sanitized and stocked with 25 meals daily. Ultimately, each fridge will be stocked with up to 100 meals per day.
Feed the Fridge DPR Locations:
Takoma Aquatic Center

Rumsey Aquatic Center

Arthur Clapper Recreation Center

Fort Stanton Recreation Center

Bald Eagle Recreation Center

Raymond Recreation Center

Emery Heights Community Center

Columbia Heights Community Center
In addition to Medium Rare, other local restaurants are also providing daily meals, with more fridges and restaurants to come. Bucher's nonprofit, We Care, Inc., is raising money through donations to pay restaurants to provide the daily meals, offering a lifeline to the local restaurant industry while confronting the food emergency.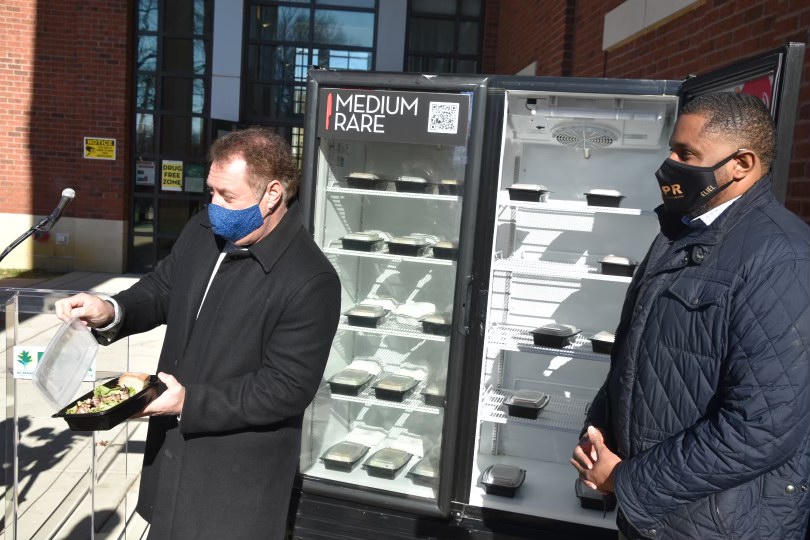 ###
Social Media:
DPR Twitter: @DCDPR
DPR Instagram: @DCDPR
DPR Facebook: facebook.com/DCDPR
DPR Website: dpr.dc.gov
For information on DPR events, facilities, programs & activities, be sure to follow DPR on Facebook, Twitter, Join our Mailing List, Sign up for Text/Email Alerts, Register for a Program or visit the DPR Website.