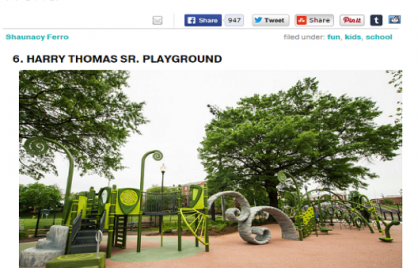 DPR Media Contact: 

Brian Armstead, (202) 746-2092, [email protected]


(Washington, DC) – Today, the Web site MentalFloss.com named the DC Department of Parks and Recreation's (DPR) Harry S. Thomas Sr. playground as one of the 16 Coolest Playgrounds in the World. The unique playspace was named number 6 out of 16, cited for its use of math in the execution of its design.
"We are proud to continue to provide world-class play areas for District of Columbia residents," stated Mayor Muriel Bowser. "Through our FitDC initiative that encourages exercise and healthy nutrition, we hope that kids from 8-80 will enjoy the Harry Thomas Sr. playground, and other DPR facilities across all eight Wards."
The Harry Thomas Sr. playground, named for the late 3-term Ward 5 DC Councilmember, uses a "mathematical-sequence theme" derived from the Fibonacci mathematical sequences (0, 1, 1, 2, 3, 5, 8, 13, 21, 34, etc.), where each number is the sum of the previous two numbers. When these numbers are used to create squares, the result is a beautiful spiral, similar to those found in fiddlehead ferns or certain mollusk shells. Other features include new curvilinear ADA-accessible walking paths; a community garden; a fitness loop; rain gardens and bio-retention areas; two new basketball courts; one new tennis court; new custom playground equipment; artistic elements such as interpretive signage and interactive art poles; a new solar-powered scoreboard; new adult fitness equipment and shaded picnic area. The playground also features a green roof pavilion and an extensive storm-water management system for its new community garden.
"It is an honor to be recognized on an international level," said DPR Acting Director Keith Anderson. "As we continue to construct unique, inspiring play spaces across the District, the Harry Thomas Sr. playground stands out as a shining example not only nationwide, but now worldwide."
This is the second major award for the Harry Thomas Sr. playground this year. In March 2015, the Early Childhood Education Zone ranked the playground the second best playground (out of 50) in the US.
DPR worked with the Department of General Services (DGS), the Harry Thomas Sr. Recreation Center community, Ward 5 stakeholders, Kadcon (general contractor), Jordan Honeyman Landscape Architecture and Bradley Site Design (playground design). To complete the site, Sparks at Play provided the playground equipment for the project. To learn more, please visit the Harry Thomas Sr. Playground Project page.

About DPR

The DC Department of Parks and Recreation (DPR) provides quality urban recreation and leisure services for residents and visitors to the District of Columbia. DPR supervises and maintains area parks, community facilities, swimming pools and spray parks, and neighborhood recreation centers. The agency also coordinates a wide variety of recreation and educational programs including sports leagues, youth development, therapeutic recreation, aquatic programming, outdoor adventure, camping and senior citizen activities. Adaptive programs and facilities are available for persons with disabilities.
For information on DPR events, facilities, programs & activities, be sure to follow
DPR on Facebook, Twitter, Join our Mailing List, Register for a Program,
Sign up for Text/Email Alerts or visit the DPR Website.