Mayor Bowser, DPR, and MPD Team Up with Commanders QB, Jacoby Brissett, for a Community Bike Ride with DC Youth

The Super Bowl-winning quarterback looks to "Start the Cycle" of fostering stronger relationships between youth and local law enforcement.
CONTACT: DPR Customer Care: (202) 673-7647

Media Contacts:
Jason Millison - (202) 673-6768, [email protected]
Michael Tucker, Jr. - (202) 717-4242, [email protected]
(WASHINGTON, DC) – Mayor Bowser, the National Football League Players Association (NFLPA), DC Department of Parks and Recreation (DPR), and DC Metropolitan Police Department (MPD) are inviting hundreds of youth and their families to Southwest DC for the Start the Cycle Community Bike Ride event on Saturday, September 2, at 9:00 a.m. at King-Greenleaf Recreation Center.
"The primary objective is to consistently bring smiles to our community, fostering a continuous flow of positive ideas and community events that effectively bridge the gap between our community and local law enforcement." – Jacoby Brissett, QB, Washington Commanders.
Newly acquired Commanders QB and Super Bowl winner Jacoby Brissett, has made it his mission to work with local police departments and first responders to break down the barriers that exist between law enforcement and at-risk communities. His annual Start the Cycle event, which started in his hometown of Riviera Beach, FL, is designed to be a celebration of safety, neighborhood unity, football, and the back-to-school season.
This year, in partnership with Amazon, and with help from the NFLPA, DPR, District Department of Transportation (DDOT), and MPD, Jacoby will establish this event for the first time ever in Washington, DC. Start the Cycle will begin with a gathering at King-Greenleaf Recreation Center where Jacoby will be on hand to meet and greet young residents and present 50 lucky participants from the Southwest community with a donation of brand-new bicycles to use during the event and take home afterward.
Jacoby, along with representatives from DPR, MPD, and the NFLPA, will be on hand to deliver opening remarks and send our young riders and families on their way with a ceremonial countdown.
Then, participants will embark on a 5-mile bike ride that travels over the Frederick Douglass Memorial Bridge and along Anacostia Dr and the scenic Riverwalk trail, before turning around and heading back to King-Greenleaf for a post-ride finish festival. During the ride, kids will get the chance to rub shoulders with Jacoby, other current NFL players, and dozens of police officers representing 1st District Command who work in and serve that community every day.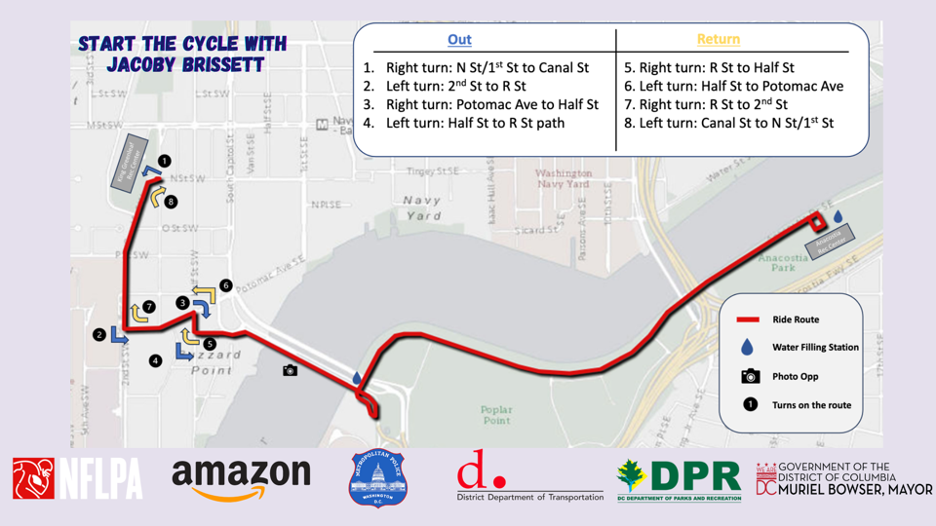 After the bike ride, participants will enjoy food, music, games, and more giveaways that are football and back-to-school inspired, all the while getting the chance to hang out with Jacoby, other current NFL players, and law enforcement professionals representing their community in Southwest DC.
"The start of the NFL season is just around the corner, and we're honored to host our hometown QB, Jacoby Brissett, for a great event that unites our young residents with local law enforcement, in the spirit of fun and football." – Thennie Freeman, Acting Director, DC Department of Parks and Recreation.
Participants will receive invites to this event with a priority shown towards the Southwest DC community and MPD's community engagement division will work to identify families in the neighborhoods surrounding King-Greenleaf to be a part of the event, with a specific focus on the 1st District Command, whose headquarters are located across the street from the recreation center.
Although the bike ride and ceremony will have a limited number of participants and RSVPs will be capped, the finish festival will be open to the public, and all Southwest DC residents are encouraged to come out. Residents can learn more about the event by staying tuned to DPR social media @DCDPR on Instagram and Twitter and by visiting StartTheCycleDC.com.
WHEN:
Saturday, September 2
9:00 AM - Opening Remarks/Meet and Greet at King-Greenleaf Recreation Center
9:30 AM - Ride Begins
11 AM - Finish Festival at King-Greenleaf Recreation Center
WHERE:
King-Greenleaf Recreation Center, 201 N Street SW
Press interested in attending the event or following up with Jacoby Brissett or NFLPA are asked to contact the DPR media contacts listed at the top of this release.
###