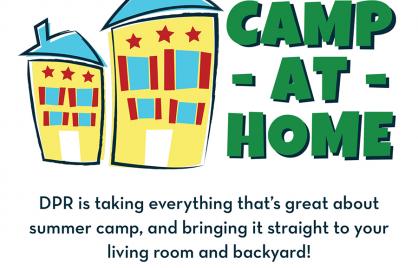 (Washington, DC) Today, Mayor Muriel Bowser and the DC Department of Parks and Recreation (DPR) launched a free interactive summer camp for children citywide with DPR Camp-At-Home.
Camp-At-home is a self-guided summer experience for children ages 3-13 that blends over 100 games, science experiments, outdoor exploration, culinary activities, and arts and crafts projects, with online engagement with DPR's camp counselors.
"Summer is a time for fun," said Mayor Bowser. "Across the District, we have been adjusting services to meet the unique challenges presented by the public health emergency. Camp-At-Home is an example of that imagination and flexibility to meet the needs of families and one of the many things residents will be able to take advantage of this summer."
Due to coronavirus (COVID-19), families have had difficulty finding safe, engaging summer opportunities for their children. To help support Mayor Muriel Bowsers efforts to stop the spread of the virus, DPR made the difficult decision to cancel in-person camps. After refunding registered participants, DPR offered previously registered and waitlisted parents the opportunity to register for the full Camp-at-Home experience. A total of 5,000 residents can register and will be able to pick up a printed Camp-at-Home Activity Guide and a Fun Pack, containing hands-on resources.
The Camp-At-Home program also allows all District families, whether registered or not, full access to the virtual experience via DPRCampathome.com, which goes live today. This website includes a digital version of the Activity Guide, and access to a network of daily updated videos to guide parents through the hundreds of activities.
"DPR is dedicated to meeting the needs of families and adapting to provide a quality summer camp experience for families in all eight wards," said DPR Director Delano Hunter.
For more information about DPR Camp-At-Home or to register and other activities available during social distancing, visit DPR.Events.
For resources and additional information on the District of Columbia Government's response to coronavirus (COVID-19), please visit coronavirus.dc.gov.
###
Social Media:
DPR Twitter: @DCDPR
DPR Instagram: @DCDPR
DPR Facebook: facebook.com/DCDPR
DPR Website: dpr.dc.gov
Join our Mailing List, Sign up for Text/Email Alerts, or Register for a Program