Residents reminded to take necessary precautions during periods of high heat.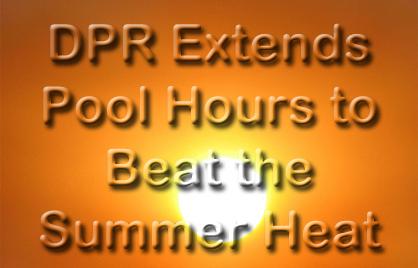 The National Weather Service has issued a Heat Advisory for the entire Washington metropolitan area for Tuesday, July 12. Residents and visitors are encouraged to find a cooling center near you.
EOM Contact: Linda Wharton Boyd, (202) 727-5011
DPR Contact: John Stokes, (202) 288-7275
WASHINGTON, DC – Today, Mayor Vincent C. Gray extended the operating hours at all District pools due to the extreme high temperatures in the area. Much of the country is experiencing a heat wave and Washington-area residents and visitors are feeling the effects and are encouraged to stay cool and healthy during this heat wave.
"I have extended the hours at all of our pools so that residents can cool off during these high temperatures," said Mayor Gray. "The operating hours at most outdoor pools have been extended by at least an hour."
To help residents beat the heat, the DC Department of Parks and Recreation (DPR) posted extended hours at the following outdoor pools:
Ward 1
Banneker Recreation Center Pool
2500 Georgia Avenue NW
11:00am - 8:30pm
Ward 2
Jelleff Recreation Center Pool
3265 S Street NW
11:00am - 8:00pm
Volta Park Pool
1555 34th Street, NW
11:00am – 9:00pm
Ward 4
Upshur Recreation Center Pool
4300 Arkansas Avenue NW
11:00am - 9:00pm
Ward 5
Langdon Park Pool
2860 Mills Avenue, NW
11:00am - 8:00pm
Theodore Hagans Pool
3201 Fort Lincoln Drive, NE
11:00am 9:00pm
Ward 6
Randall Pool
25 I Street, SW
11:00am - 8:00pm
Ward 7
Benning Park
5100 Southern Avenue, SE
11:00am - 8:30pm
Kelly Miller Pool
4900 Brooks St., NE
11:00am - 8:00pm
Ward 8
Anacostia Pool
1800 Anacostia Drive SE
11:00am - 8:30pm
Douglass Pool
1921 Fredrick Douglass Court, SE
11:00am - 8:00pm
Oxon Run Pool
501 Mississippi Avenue, SE
11:00am - 8:30pm
The National Weather Service has issued a Heat Advisory for the entire Washington metropolitan area for Tuesday, July 12. Residents and visitors are encouraged to find cooling locations near them. D.C. Recreation Centers, D.C. Public Libraries and D.C. Senior Wellness Centers are all great places to beat the heat and are open to the public. Many of these locations provide not only a cool place to rest, but also provide water and indoor activities.
For information on additional cooling locations available in each ward of the city, residents should visit DC.GOV. They can also call the Mayor's Citywide Call Center at 311.
Cancellation of Outdoor DPR Youth Activities for July 12
Due to the heat advisory issued for the District of Columbia, the D.C. Department of Parks and Recreation (DPR) has canceled all DPR-sponsored outdoor activities for youth on Tuesday, July 12. DPR-sponsored adult activities may continue at the discretion of the organizers and permit holders. However, DPR encourages all residents to refrain from outdoor physical activities during such weather conditions.
D.C. Water and D.C. Fire and EMS officials want to remind the public that unauthorized fire-hydrant use is unlawful, dangerous and damaging.
Beat-the-Heat Tips
In addition to the Heat Advisory, with the air-quality forecast as Code Orange for today, it is recommended that those with lung disease, asthma, small children and the elderly stay inside if at all possible to avoid unhealthy outdoor air. 
Residents should know the difference between an advisory and a warning. An excessive-heat advisory issued by the National Weather Service means that extreme heat is likely. An excessive-heat warning means that extreme heat is likely and can pose a threat to life if proper precautions are not taken.
In the event of extreme heat, you should take the following precautions:
Stay indoors as much as possible.
Turn on the air-conditioner or fan.
DO NOT leave children or pets in vehicles.
Pay special attention to young children, the elderly and the mentally ill.
Drink plenty of water.
Wear light-colored, lightweight and loose-fitting clothes.
Apply sunscreen at least 20 minutes before going outside (SPF 15-30 is best).
Limit exposure to the sun (the sun is most powerful between 10 am and 3 pm).
Watch for heat cramps, heat exhaustion and heat stroke.
If you do not have access to a cool-temperature location, visit one of the District's cooled indoor facilities referred to above.
Residents should also be reminded that these hot and humid conditions can cause many medical problems, such as heat stroke and exhaustion. The Centers for Disease Control and Prevention (CDC) consider heat stroke to be the most serious heat-related illness. According to CDC, "heat stroke occurs when the body becomes unable to control its temperature: the body's temperature rises rapidly, the sweating mechanism fails, and the body is unable to cool down. When heat stroke occurs, the body temperature can rise to 106 degrees Fahrenheit or higher within 10 to 15 minutes. Heat stroke can cause death or permanent disability if emergency treatment is not given."
Symptoms of heat stroke:
Hot, dry skin (no sweating)
Hallucinations
Chills
Throbbing headache
High body temperature
Confusion/dizziness
Slurred speech
Groups at greatest risk for heat-related illness:
Infants
Children up to four years of age
People 65 years of age and older
People who are overweight
People who are ill or on certain medications.
Groups at greatest risk should be monitored carefully, and their environments should be regulated. The CDC recommends that those at greatest risk be closely monitored and visited at least twice a day to view for possible signs of heat exhaustion or heat stroke. Infants and young children should also be closely monitored.
For information about water for the homeless, contact United Planning Organization at (202) 399-7093. For additional information, visit the Emergency Information Center at 72hours.dc.gov.