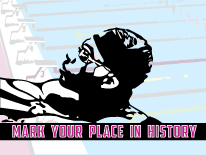 The 29th Annual Black History Invitational Swim Meet (BHISM) was held February 13 - 15, 2015, at the Takoma Aquatic Center (300 Van Buren St., NW).
2015 Entry information
Completed entry packages must be received on Tuesday, January 27, 2015.
Corrections, changes and fees are due Friday, February 6.
Incomplete entry packages or packages received after Tuesday, January 27, 2015 will be returned to the sender.

2015 Call for volunteers!
The BHISM is in need of volunteers. If you would like to volunteer for this years meet, go to BHISM's volunteer packet, fill out a short form and we will contact you. We are looking for timers, ribbon writers, runners and hospitality volunteers. Hope to see you there!!

2015 BHISM Final Schedule
Thursday, February 12
- Volunteer Briefing : 6:30 pm to 7:30 pm

Friday, February 13
- Session 1 (13 & over) : Warm up - 7 am to 7:45 am | First event: 8 am
- Session 1 Coaches meeting: 7:45 am
- Session 2 (12 & under): Warm up - 1 pm to 1:45 pm | First event: 2 pm
- Session 2 Coaches meeting: 1:45 pm
Saturday, February 14
- Session 3 (13 & over) : Warm up - 7 am to 8 am | First event: 8 am
- Honoree Awards Ceremony: 12 noon
- Session 4 (12 & under): Warm up - 1 pm to 1:45 pm | First event: 2 pm

Sunday, February 15
- Session 5 (13 & over) : Warm up - 7 am to 7:45 am | First event: 8 am
- High Point Award Ceremony for 13 & over: 12:30 pm
- Session 6 (12 & under): Warm up - 1 pm to 1:45 pm | First event: 2 pm
- High Point Award Ceremony for 12 & under: At the conclusion of Session 6 (the last session of the day)


2015 BHISM Honoree
This year's honoree is Justin Lynch, a freshman at the University of California at Berkeley. Mr. Lynch is a talented swimmer who made headlines in 2013 when he broke Olympic medalist Michael Phelps' 100 meter butterfly (15-16 age) with a time of 52.72. Lynch's mark topped Phelps' mark of 52.98 that had stood for 12 years. He is a member of the National Junior Team, won a silver and bronze medal at the 2013 World Championships in Dubai, won a gold and silver medal at the 2013 Junior Nationals and is a member of UC Berkeley's Terrapins Swim Team.
For more information on Justin Lynch, please visit Justin Lynch's bio page on the Cal Bears/UC Berkeley website.

2015 BHISM Competing Teams
Washington, DC
DC Wave Swim Team (DCPR) - Host Team
Eastern Senior High School (ESHS)
Maryland
Aqua Eagles Swim Club (AESC)
Baltimore City Swim Club (BCSC)
Central Chesapeake Swimming (PEAK)
Elite Rays Swim Club (ERSC)
Greenbelt Municipal (GM)
Prince George's Parks and Recreation (PGPR)
University of Maryland Aquatic Club (UMAC)
Virginia
Alexandria YMCA Sea Dragons (YASD)
Herndon Aquatic Club Commanders (HACC)
Machine Aquatics (MACH)
Nations Capital Swim Club (NCAP)
Shark Tank Racing Squad (TANK)
Tidewater Aquatic Club (TAC)
York Swim Club (YORK)
Delaware
Central Delaware YMCA (CDEL)

Georgia
Andrew and Walter Young YMCA Stingrays (AWYY)
City of Atlanta Dolphins (CAD)
Healthy Lives Healthy Kids Seal Swim Team (HLHK)
Michigan
Detroit Recreation Swim Team (DRST)
New York
FAST Swim Team (FAST)
Ohio
Team Lake Erie (LE)
Pennsylvania
Pittsburgh Stingrays (PSTR)
South Carolina
Greenview Dolphins Swim Team (GVST)
South Carolina Dolphins (SCST)
St. Lucia
Racers Swim Club (RACER)

Totals: 27 teams | 762 swimmers | 3,576 entries


History of the Black History Invitational Swim Meet
This unique event was co-founded in 1987 by the DC Department of Parks and Recreation (DPR) and the United Black Fund, Inc. (UBF) in honor of Black History Month. These two organizations have worked together every year since to produce the first swim meet in the nation to celebrate this important month that higlights the contributions of African Americans to US society.
The invitational was founded with the goals of providing urban youth nationwide with a positive outlet for expression, exposure to strong competition, a forum to meet positive role models, and the opportunity to visit the nation's capital. Since the very first year, DPR and UBF are proud that the Black History Invitational Swim Meet has fulfilled these goals and has grown from a small, local competition to one now hailed by USA Swimming, the national governing body for the sport of swimming, as the "premier minority swim competition in the United States and in the World." The two-day annual event now attracts nearly 800 minority competitors, ages 5–18, from swim teams in Los Angeles, Atlanta, Detroit, Cleveland, New York and other metropolitan areas in the United States.


Past Black History Invitational Swim Meet Honorees
Beginning in 1989, the Black History Invitational Swim Meet Steering Committee has chosen courageous and notable African Americans in history or in the field of swimming whose contributions are known throughout the world to be recognized during the weekend's events.


Calendar Year
Annual Year
Honorees
1989
3rd
Martin Luther King Jr.
1990
4th
Martin Luther King Jr.
1991
5th
Frederick Douglass
1992
6th
Sojourner Truth
1993
7th
Benjamin Banneker
1994
8th
Mary McCleod Bethune
1995
9th
George Washington Carver
1996
10th
Harriet Tubman
1997
11th
Booker T. Washington
1998
12th
Dr. Dorothy Height
1999
13th
Walter Washington
2000
14th
Eleanor Holmes Norton
2001
15th
Dr. Calvin Rolark
2002
16th
Dr. William H. Rumsey
2003
17th
Dan Knise and Clarence Bishop
2004
18th
Sharon Pratt
2005
19th
Chuck Hinton, Fred Lee Valentine, and Mamie
2006
20th
20th Annual Black History Invitational Swim Meet Committee
2007
21st
Jim Ellis and Frederick Evans II
2008
22nd
Bradford A. Tatum
2009
23rd
Cullen Jones



2010
24th
Maritza Correia, Byron Davis, Sabir Muhammed and David Goggins
2011
25th
Michael Wright and Alana Dillette
2012
26th
Rodger McCoy
2013
27th
John Tatum
2014
28th
Coach Russell "Kim" Williams of the Baltimore City Swim Club (BCSC)
2015
29th
Justin Lynch