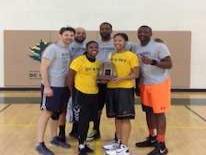 DPR offers Adult Basketball Leagues with a variety of programs of competition for adults. Organized leagues will increase skill level and develop strong character. The leagues are governed by National Collegiate Athletic Association (NCAA) rules and regulations. Participants must be 18 years old and above. Teams consist of a team roster of 12 players. Leagues are located at various sites throughout the city.
Summer Schedule and Results
Summer League Dates
Registration: April 1 - May 24
Teams Pick Up Schedules: June 5
League Play Begins: June 13
8 - game schedule
Playoffs & Championship: August 15 - 22
The Leagues
League Seasons
Summer - June through August
Fall - September through November
Winter - December through March
Please remember that regardless of the league or caliber of competition, the main objective of the program is fun and good sportsmanship.
________
For more information, or to find out how to participate in DPR's Adult Sports Leagues, contact Luna Harrison, Coordinator of Adult Sports, at [email protected] or (202) 316-4249.