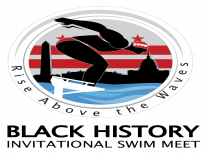 This unique event was co-founded in 1987 by the DC Department of Parks and Recreation (DPR) and the United Black Fund, Inc. (UBF) in honor of Black History Month. These two organizations have worked together every year since to produce the first swim meet in the nation to celebrate this important month that highlights the contributions of African Americans to US society.
The invitational was founded with the goals of providing urban youth nationwide with a positive outlet for expression, exposure to strong competition, a forum to meet positive role models, and the opportunity to visit the nation's capital. Since the very first year, DPR and UBF are proud that the Black History Invitational Swim Meet has fulfilled these goals and has grown from a small, local competition to one now hailed by USA Swimming, the national governing body for the sport of swimming, as the "premier minority swim competition in the United States and in the World." During the three-day Invitational, youth athletes ranging in age from 5 – 18 will compete in standard swim events, such as the individual medley, freestyle, butterfly, relays, and back and breast strokes; attracting nearly 800 minority competitors, ages 5–18, from swim teams in Los Angeles, Atlanta, Detroit, Cleveland, New York and other metropolitan areas in the United States.

Past Black History Invitational Swim Meet Honorees
Beginning in 1989, the Black History Invitational Swim Meet Steering Committee has chosen courageous and notable African Americans in history or in the field of swimming whose contributions are known throughout the world to be recognized during the weekend's events.
| Calendar Year | Annual Year | Honorees |
| --- | --- | --- |
| 2017 | 31st | Natalie Hinds |
| 2016 | 30th | Coach Tommy Jackson, Coach Gary Peterson and Coach Lee Pitts |
| 2015 | 29th | Justin Lynch |
| 2014 | 28th | Coach Russell "Kim" Williams of the Baltimore City Swim Club (BCSC) |
| 2013 | 27th | John Tatum |
| 2012 | 26th | Rodger McCoy |
| 2011 | 25th | Michael Wright and Alana Dillette |
| 2010 | 24th | Maritza Correia, Byron Davis, Sabir Muhammed and David Goggins |
| 2009 | 23rd | Cullen Jones |
| 2008 | 22nd | Bradford A. Tatum |
| 2007 | 21st | Jim Ellis and Frederick Evans II |
| 2006 | 20th | 20th Annual Black History Invitational Swim Meet Committee |
| 2005 | 19th | Chuck Hinton, Fred Lee Valentine, and Mamie |
| 2004 | 18th | Sharon Pratt |
| 2003 | 17th | Dan Knise and Clarence Bishop |
| 2002 | 16th | Dr. William H. Rumsey |
| 2001 | 15th | Dr. Calvin Rolark |
| 2000 | 14th | Eleanor Holmes Norton |
| 1999 | 13th | Walter Washington |
| 1998 | 12th | Dr. Dorothy Height |
| 1997 | 11th | Booker T. Washington |
| 1996 | 10th | Harriet Tubman |
| 1995 | 9th | George Washington Carver |
| 1994 | 8th | Mary McCleod Bethune |
| 1993 | 7th | Benjamin Banneker |
| 1992 | 6th | Sojourner Truth |
| 1991 | 5th | Frederick Douglass |
| 1990 | 4th | Martin Luther King Jr. |
| 1989 * | 3rd | Martin Luther King Jr. |