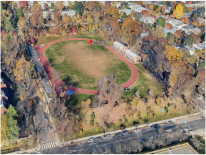 DPR strives to provide a robust community engagement process that ensures all residents' voices are heard and respected during the process of acquiring new inventory.
To that end, DPR is making public the ANC 2E Monthly Meeting Presentation from December 2, 2019 as well as the DESA Notice of Intent outlining the parameters of this project.
Be sure to check this page to for more information about the scheduling of future community meetings relating to this matter.
For specific questions, please contact Tommie Jones, Chief of External Affairs at 202-431-8676.