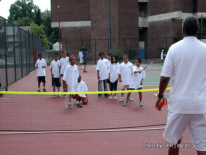 DPR offers programs specifically geared for jump starting the recreational development of the District's youngest citizens. If your child could benefit from structured rec programming in the early stages of their development, scroll through the options below and sign up online today.
Gymnastics 4Y-6Y
Tiny Tots Need Recreation, Too!
Tiny Tots: Soccer
Tiny Tots: Tennis
Visit our Registration Portal to sign up for early childhood programs now.