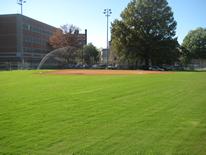 Do you want to play soccer, football, lacrosse, rugby, softball, or baseball with friends or on a team? The Department of Parks and Recreation (DPR) has over 100 athletic fields available for community use and organized play. Review the DPR Athletic Field Inventory for a location suited to your interest and be sure to adhere to the associated inclement weather policy so that we can maintain the quality of our fields.
Please Note: Dogs are not allowed at athletic fields and playgrounds in District parks. They are welcome if they have leashes everywhere else in our park system. DPR also provides dog parks where pets can run free if they have leashes.
If you would like to apply for a permit, check our learn how to apply for a permit page.