In accordance with Mayor Muriel Bower's lifting of the District's Stay-at-Home Order and the start of Phase Two on Monday, June 22, 2020, DPR has extended the level of extended permissible activities in parks and green spaces that are open for public use.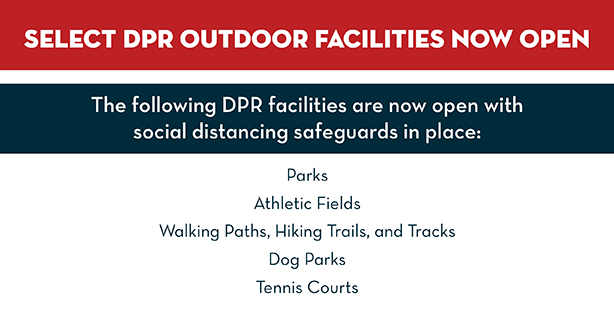 All organized and high-contact (football, wrestling, boxing) sporting activities are prohibited.
Special events, without a permit, are prohibited.
DPR outdoor pools will open, with restrictions, after July 15, 2020 for lap swimming and classes.
Spray parks, splash pads, and indoor pools remain closed until further notice.
Like you, DPR is excited to begin this second phase and reopen our many parks and facilities after an extended closure. We look forward to welcoming residents back and appreciate your patience as we work to make sure all these public spaces meet our Gold Standard and are ready for our residents' use. If an amenity at your local DPR facility is not ready immediately, rest assured we are working as fast as possible and will be there soon.

Please note that during Phase Two, it is still prohibited to gather in groups of 50 or more. For more in-depth details regarding DPR's operational status during Phase Two, click on the one pager image below.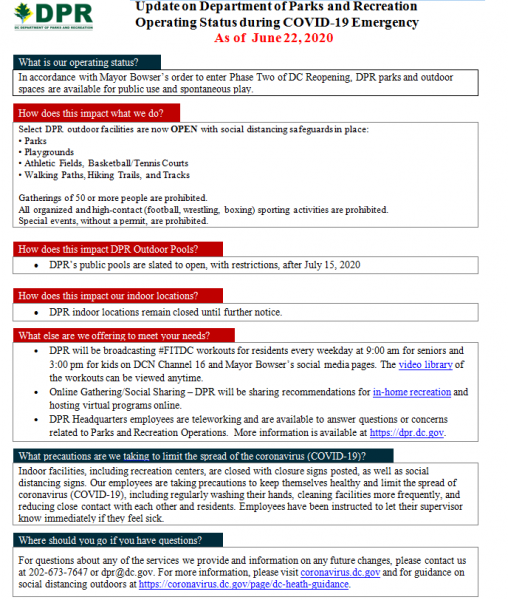 The end of the Stay-at-Home Order DOES NOT mean the end of social distancing. Even while you're outside, enjoying a newly reopened DPR park or open space, please adhere to the guidelines below.