As the District continues to progress through Phase Two, many DPR facilities, services, and programs are coming back online. The following is an easy-to-read breakdown of how you can enjoy DPR's programs, services, and facilities during Phase Two.
DPR Facilities - What's Open/Closed?
OPEN with Social Distancing Safeguards in place:

• Parks, Open Fields and Green Spaces
• Athletic Fields and Courts
• Dog Parks
• Playgrounds

PROHIBITED on DPR grounds until further notice:
• All organized and high-contact sporting activities, such as football, wrestling, boxing
• Special events and organized practices.
Permits - Available for Limited Activities
DPR is accepting permit applications for our outdoor amenities for groups of no more than 50 persons. Residents can apply for permits for the following activities:

• Birthday parties
• Picnics
• Family Gatherings
• Reunions
• Weddings
• Baby Showers

To apply and pay for a permit today, click here.

DPR/DCPL Learning Hubs
To support students' continued learning while school is out, Mayor Muriel Bowser has launched Learning Hubs for DC students.

With support from DPR and DCPL, Learning Hubs will provide families in the District with safe spaces for their children to engage in supervised independent activities. These spaces will provide students with access to internet (and devices in some locations), and offer recommended independent activities based on age group and host site. This Learning Hub will serve students who are rising Kindergarten through 5th graders.

Get your kids out of the house and take advantage of our safe and structured learning environments this summer. Sign up now.

Free Summer Meals Extended through December
Kids and Teens Eat FREE Throught the end of December
From June 15 through December 30, kids and teens (18 and under) can enjoy FREE nutritious meals, including breakfast and lunch, at 38 locations across the District. Click here to find a meal location near you.

Please note that during Phase Two, it is still prohibited to gather in groups of 50 or more. For more in-depth details regarding DPR's operational status during Phase Two, click on the one pager image below.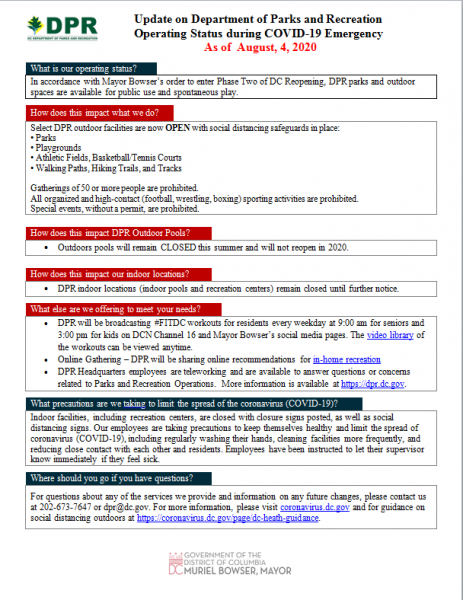 The end of the Stay-at-Home Order DOES NOT mean the end of social distancing. Even while you're outside, enjoying a newly reopened DPR park or open space, please adhere to the guidelines below.