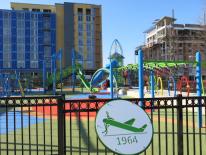 DPR manages and maintains over 100 playgrounds located throughout every Ward in the District. All of them serve as multi-generational play spaces that are accessible to everyone.

Thanks to a multi-million dollar initiative, called Play DC, many of these locations have been recently renovated and now include quiet toddler play areas, large slides and water features.

To find a playground near you, use the interactive map below.