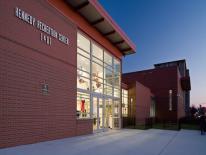 No matter where you live in the District, DPR manages and maintains a neighborhood recreation center that is close to your home. These centers are your gateway to a broad range of fun and challenging activities. Recreation Centers are safe zones for children and teens and offer the chance for families to enjoy special activities and events right in their own neighborhood.
To find a recreation center near you, use the interactive map below.
Scroll down for a full list of every District recreation center by Ward.
Click on the corresponding link to view each recreation center's webpage.

There you will find contact information, hours of operation, and a brief description of the facilities and services available at that location.

WARD 1
WARD 2
WARD 3
WARD 4
WARD 5
WARD 6
WARD 7
WARD 8