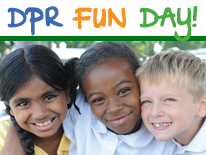 When the DC Public Schools (DCPS) have full day closures for staff development, DPR offers Fun Day camps for children ages 6 - 12 years old. These are single-day programs featuring enriching activities, sports, arts & crafts, and more.
Fun Days for the 2017-18 school year have yet to be announced. Be on the lookout for updates regarding locations and registration closer to the start of the school year.
Camp Dates
TBA: Various Dates Throughout DCPS 2017-18 school year.
How to Register
Camp Resources
DPR Summer Camp Headquarters
Columbia Heights Community Center
1480 Girard St NW, 4th Floor
Washington, DC 20009 | (202) 671-0312 | [email protected]

Mon: 9:30 am - 7 pm
Tues- Fri: 9:30 am - 5 pm
Closed: Sat & Sun