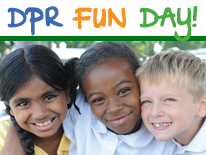 During the school year, when DC Public Schools (DCPS) has full-day closures for staff development, DPR offers a Fun Day Camp, which is a single-day program offering fun and enriching activities (such as sports activities, arts and crafts, and more) for children, ages 6–12 years old. DPR strives to meet the needs of District families when the District's public schools have planned closures.
How to Register
Register by following the link on DPRprograms.com.
Fees -- DC Resident: $10 per child, per day. ($20 non-resident)
Registration fees are due at the time of registration. Please note that fees are non-refundable and non-transferable.
Camp Dates:
October 7, 2022
January 25, 2023
March 10, 2023
Locations:
Raymond, Turkey Thicket, Deanwood, Ft. Davis, Rosedale, Arthur Capper, Jelleff, Ferebee Hope
Camp Resources
DPR Kids, Camps & Co-Op
1275 First Street NE, 8th Floor
Washington, DC 20009 | (202) 671-0372 | [email protected]