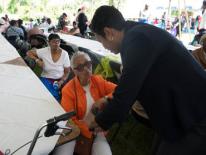 DPR offers three annual camps that allow District seniors to connect and share the company of some of our city's proudest residents. These camps fill up fast so be sure to use the contact information below if you or a senior you know is interested in attending.
If registration has closed, give us a call or shoot us an email to get on our list for next year.
Advanced registration is required for all three of these opportunities.

For more information, please contact Cecily A. Mendie, Senior Services Manager at (202) 391-1374.