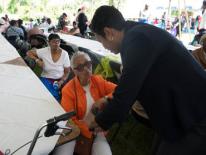 DPR offers an annual overnight camp that allows District seniors to connect and share the company of some of our city's proudest residents. DPR's Senior Services staff accompany participants for a 5-day, 4-night camp experience of fishing, crafting, exercise, and more.
This camp fills up fast so be sure to use the contact information below if you, or a senior you know, is interested in attending.
For more information, please contact [email protected], or Senior Services Manager Marion Speight at (202) 255-1369.