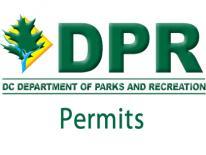 Frequently Asked Questions
Q: What is the permit cancellation policy?
A: All cancellations must be submitted in writing (email, fax or mail) directly with the Permit Office.
Cancellations received 30 days or more prior to the event date will receive a refund of the entire deposit and a refund of 75% of the permit fee.
Cancellations made less than 30 days prior to the event start date refund of the entire deposit ONLY, but no refund of the permit fee.
Q: What is the cost of the permit?
A: Cost is based on type of event and type of reservation. A complete list of fees can be found on our DPR Permit Fees Schedule page.
Q: How can I pay for a permit?
A: All rentals made through the Permit Office must be paid in FULL before a permit is issued. Online: credit card (Visa, MasterCard or Discover only); Walk-in: credit card (Visa, MasterCard or Discover only), check or money order made payable to DC Treasurer. NO cash accepted.
Q: How far in advance should I apply for a permit?
A: We ask that you apply for permits at least 30 days in advance and no later than 2 weeks prior to your event.
Q: What is an Athletic "Permit Window?"
A: DPR permits its ball fields and basketball courts on a seasonal basis. Please visit our DPR Permit Window webpage for more information.
Q: Can I rent a pool out for a private event or party?
A: No, if you are using one of our parks or facility rooms for an event and would like to swim, you must swim with the general public. Currently DPR only reserves pool lanes for practices, swim meets and camp organizations (during the summer months only).
Q: What is DPR's seasonal athletic permit preference?
A: Provided that the application is completed in a timely manner, DPR will, in scheduling its fields and gymnasiums for the permitting season, award permits in the following order:
DPR-sponsored activities
District of Columbia non-profit partners recognized by the Department in a written agreement.
Athletic programs organized by DCPS, DC Public Charter Schools, or the DCSAA for competitive league play and not for intramurals.
Youth non-profit organizations, including schools, principally serving residents of the District of Columbia.*
Adult non-profit organizations principally serving DC residents of the District of Columbia.*
Other District of Columbia organizations, groups, or individuals for private use.
*Principally serving requires 75% of participants be DC residents. Applicants may be required to sign a sworn statement or provide rosters of participants' addresses showing that they meet the residency requirements.