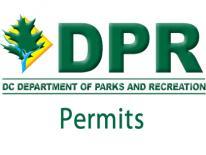 Frequently Asked Questions
Q: What is the permit cancellation policy?
A: All cancellations must be submitted in writing (email, fax or mail) directly with the Permit Office.
Cancellations received 30 days or more prior to the event date will receive a refund of the entire deposit and a refund of 75% of the permit fee.
Cancellations made less than 30 days prior to the event start date refund of the entire deposit ONLY, but no refund of the permit fee.
Q: What is the cost of the permit?
A: Cost is based on type of event and type of reservation. A complete list of fees can be found on our DPR Permit Fees Schedule page.
Q: What is the procedure to get a permit for a field/court?
A: From http://dpr.dc.gov, go to the "Permits" menu, and select "Apply Online." For more detailed instructions, visit How To Apply For A Permit.
Q: How can I pay for a permit?
A: All rentals made through the Permit Office must be paid in FULL before a permit is issued. Online: credit card (Visa, MasterCard or Discover only); Walk-in: credit card (Visa, MasterCard or Discover only), check or money order made payable to DC Treasurer. NO cash accepted.
Q: How far in advance should I apply for a permit?
A: We ask that you apply for permits at least 30 days in advance and no later than 2 weeks prior to your event.
Q: What is an Athletic "Permit Window?"
A: DPR permits its ball fields and basketball courts on a seasonal basis. Please visit our DPR Permit Window webpage for more information.
Q: Can I rent a pool out for a private event or party?
A: No, if you are using one of our parks or facility rooms for an event and would like to swim, you must swim with the general public. Currently DPR only reserves pool lanes for practices, swim meets and camp organizations (during the summer months only).
Q: How does DPR decide who gets a permit for a DPR facility or amenity?
A: Generally, permits are issued on a first come, first served basis. However, in order to manage the high demand for seasonal permits, DPR establishes four 'permit windows' in advance of each season. Seasonal applications submitted during the permit window are all treated as having been submitted simultaneously (i.e., there is no "first in line" during the permit window). After all the applications submitted during the permit window have been accepted, DPR follows a detailed and consistent 'Priority of Use' protocol, giving preference to DPR and school activities (DC Public Schools, DC Public Charter Schools, and DCSAA), then youth teams, followed by adult teams, and finally other private organizations and uses (see detail below).
Q: What is the 'Priority of Use' Protocol?
A: Provided that the application is completed in a timely manner, DPR will prioritize permitting for the permitting season in the following order, as stated in DC Municipal Regulations, Chapter 19 § 717.2:
DPR-sponsored activities;
District of Columbia nonprofit partners recognized by the Department in a written agreement;
Athletic programs organized by DC Public Schools (DCPS), DC Public Charter Schools, or the DCSAA for competitive league play and not for intramurals
Youth nonprofit organizations, including schools, principally serving residents of the District of Columbia;*
Adult nonprofit organizations principally serving DC residents of the District of Columbia;* and
Other District of Columbia organizations, groups, or individuals for private use.
*Principally serving requires 75% of participants be DC residents. Applicants may be required to sign a sworn statement or provide rosters of participants' addresses showing that they meet the residency requirements.
Q: Who needs a permit to use a DPR facility or amenity?
A: A permit is required for any organized activity, program, or event on DPR property involving more than 10 people or for repeating "pick up" activities, or if you want to guarantee space for a group of less than 10. Examples: picnics, barbeques, birthday parties, meetings, and team or individual athletic lessons or sports that are free to participants.
Both a Permit and a Fee-Based-Use Permit are required if the applicant charges fees for the activity or if there is an organized event like a market or festival. Examples of activities where the participant is charged a fee that require both a Fee-Based-Use Permit and a Permit: fitness classes, yoga classes, instructional tennis lesson, team sports, youth camps, flea market, farmers market, seminars, and group therapy.
Q: How does someone become a DPR partner?
A: Programmatic Partners are 501c3 nonprofit organizations with mission and programs that support the mission of DPR and add value to recreational programs for DC residents. They could also facilitate innovative educational and development programs and/or provide new skills to DC residents. Program partners must implement programs with approved staff and volunteers, provide program reports quarterly, and evaluate programs annually. Examples include: after school youth development, senior health and wellness, youth athletics, specialty summer camps, creative and performing arts programs. Prospective program partners are encouraged to submit an application to DPR. Program partners are evaluated in accordance with the criteria outlined in the Program Partner Application, and DPR reserves the right to approve or deny applications based on the criteria.
Q: What if multiple groups want the same field?
A: DPR relies on its priority of use protocol, which is explained above. However, it's important to note that - given our goal of providing as many of our residents and stakeholders as possible with the opportunity to enjoy our space - we work with multiple permit applicants to encourage space sharing. This allows us to do the most good for the greatest number of our valued residents.
Q: What happens if a team, group, or entity just shows up at a DPR field or outdoor space without a permit?
A: We understand that everyone wants to enjoy DPR's outdoor spaces, and that's why we encourage permit applications. If a team, group, or entity just "shows up" they run the risk of occupying a space which has already been permitted to someone else. By applying for a permit ensure everyone gets a fair chance to enjoy DPR's spaces. DPR employs a team of DPR Rangers to enforce DPR rules on DPR properties, including permits. DPR Rangers can be reached at (202) 441-2605.
Q: What if someone has a question that isn't addressed here? Is there a phone number?
A: Yes. DPR has a team of customer service representatives available to discuss a variety of topics. They are available Monday through Friday, 9 am to 5 pm, by calling (202) 671-2597. The permits team can be reached via email at [email protected]. DPR Rangers are available after hours and on weekends at (202) 441-2605.
Are all these rules written up in a single document somewhere?
A: Yes. The DPR Permit Handbook is an 18-page document that details every aspect of DPR permitting. It is available on the How To Apply For A Permit page.