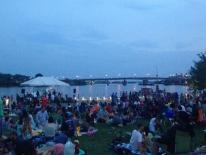 DPR rolling events are scheduled, mobile functions that pop up at various parks and facilities throughout the year. Whether you want to sign up for a fitness session, catch a movie in the park, or listen to live music, DPR likely has a rolling event coming to your neighborhood soon!

Click on the below links to learn more about and attend one of our rolling events.
If you're looking for news about smaller gatherings at specific DPR facilities, click on the Find a Facility, Find a Park, or Find a Pool links and use the contact information on those pages to reach out to DPR staff directly.